Your Los Angeles Tummy Tuck Surgeon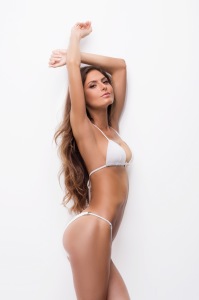 Tummy tuck or abdominoplasty is a major plastic surgery procedure designed to reshape the abdominal area through reduction of excess skin and tightening of underlying abdominal muscles. The procedure should be performed by an experienced cosmetic surgeon to achieve safe and optimal outcomes.
Dr. Eugene Kim is a double board certified plastic surgeon in Los Angeles area providing tummy tuck surgery and other procedures. Dr. Kim and his team of professionals will ensure personalized treatment for every patient according to their unique aesthetic needs. Patients in Beverly Hills, Los Angeles, Santa Monica, West Hollywood, CA, and surrounding communities have an opportunity to receive tummy tuck surgery from Dr. Kim.
Education and Training
Double board certified plastic surgeon, Dr. Eugene Kim, completed his M.D. from the New Jersey Medical School, and received six years of training in general surgery at the University Hospital in New Jersey. He earned several honors during his residency in general surgery, and was inducted into the Alpha Omega Alpha medical honor society.
Current Engagements
In addition to devoting his time to his practice as a cosmetic surgeon, Dr. Kim also currently serves as an Assistant Clinical Professor in Plastic Surgery at the University of California, Irvine. He is actively involved in resident education in this position. Los Angeles tummy tuck surgeon, Dr. Kim, also participates in Korean-American Graduate Medical Association (KAGMA) and Korean Medical Association (KMA) meetings in LA.
Educating the Patients
Dr. Kim is committed to educating his patients in Beverly Hills, Los Angeles, Santa Monica, West Hollywood, CA, and other areas about various aspects of the procedure they are seeking. His goal is to help the patient make an informed decision, and involve them in the treatment plan in order to achieve most satisfactory aesthetic results.
During the initial consultation process, Dr. Kim will try to understand the patient's innate aesthetic needs carefully. He will spend as much time as required for a particular patient during pre-op consultations. This process ensures expected and desirable results and a high degree of patient satisfaction in every case.
Creating a Strong Patient-Doctor Relationship
Dr. Kim believes in building a positive, healthy and strong relationship with the patient that is based on complete trust and confidence. A positive and engaging relationship allows Dr. Kim to understand the patient's unique goals and aesthetic aspirations.
He also works on the relationship to put the patient entirely at ease, which eventually reflects in the final results of the tummy tuck surgery. The relationship also helps patients seek guidance and support from Dr. Kim during the recovery period and beyond.
Comprehensive Treatment Approach
Abdominoplasty or tummy tuck surgery may be performed as a full or partial procedure. Depending on the patient's aesthetic needs, Dr. Kim will recommend the appropriate treatment approach. He may recommend full tummy tuck for patients who are keen to achieve substantive and sustainable results in terms of a flatter and firmer abdomen.
In some cases, a combination of tummy tuck and other procedures such as liposuction may be desirable to achieve harmonious results. Dr. Kim will guide the patient appropriately and help them gain the best aesthetic outcomes from the procedure.
Click here see more plastic surgery procedures and treatments performed by Board Certified Plastic Surgeon, Dr. Eugene Kim on patients in Beverly Hills, Los Angeles, West Hollywood, Santa Monica and surrounding areas or call 310-271-6996 to schedule a consultation.