Non-Surgical Body Contouring Treatment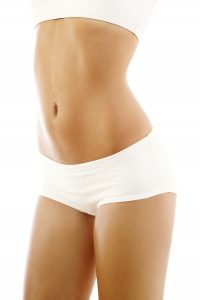 If you feel self-conscious or even embarrassed about fatty pockets around your waist, hips, thighs, stomach, or back, you may have considered fat removal surgery with liposuction. However, if you are close to your ideal weight and only have some small fatty pockets that need to be reduced, surgery may not be the only option.
CoolSculpting is one of the breakthrough treatments for body contouring and works by freezing fat cells until they die. It's a completely non-surgical procedure that involves placing a set of cooling panels on to the skin and targeting fat cells through the skin.
At the Beverly Hills plastic surgery office of Dr. Eugene Kim, CoolSculpting continues to be one of the most popular body contouring procedures for anyone looking to lose inches without liposuction.
How Effective Is CoolSculpting?
CoolSculpting cryolipolysis technology was developed by Harvard University and Massachusetts General Hospital scientists when they found that fat cells die when exposed to very cold temperatures. The treatment involves placing a wide-panel applicator on the skin of the treatment area so that cooling energy from the device can freeze the tissues for a period of about 30 minutes. The fat cells die completely under these conditions and are then flushed out of the body naturally over a few weeks.
Patients typically see progressive results in the treatment area 12 to 16 weeks after treatment. Results are permanent and will remain visible as long as the patient maintains a stable weight.
Is CoolSculpting Right for Me?
You may be a good candidate for CoolSculpting in Beverly Hills if you're bothered by a few stubborn fatty pockets and inches that don't respond to diet and exercise. For many patients, this means treating fat deposits on the abdomen, outer thighs or love handles. The treatment does eliminate fat cells permanently so you can maintain results as long as you eat healthy and exercise regularly.
Your CoolSculpting Results
Dr. Kim will determine whether you are a good candidate for CoolSculpting during your consultation. One treatment can reduce 20 to 25% of fat so some patients may need multiple treatments to achieve their desired result. There is no downtime, bruising or scarring with this treatment. In fact, most patients return to their regular activities after their appointment.
If you would like to learn more about CoolSculpting and how this breakthrough technology can reshape and enhance your silhouette, please contact E. Kim Plastic Surgery in Beverly Hills. We can share more information about this body contouring treatment and set up your consultation appointment.