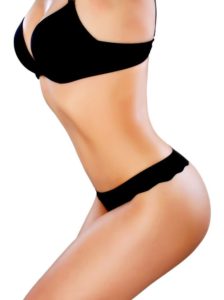 Unsightly accumulation of fat deposits around the abdominal area is a common problem. People with moderate weight can also suffer from this condition due to hereditary factors, sedentary lifestyle, or other reasons. An experienced cosmetic surgeon will evaluate various aspects before recommending the most appropriate solution. Tummy tuck surgery is the most effective treatment available among surgical options to achieve flatter and firmer tummy.
In some cases, a full tummy tuck may also be combined with liposuction, while in other cases just a mini tummy tuck or partial abdominoplasty may suffice. However, sometimes the patient may not be keen on a surgical option, and yet desiring to have a tighter abdomen. In such cases, one of the sterling, cutting edge, and most enlightening treatment options is laser skin tightening. Dr. Eugene Kim is an eminent plastic surgeon providing both tummy tuck and laser skin tightening treatment options to patients in Beverly Hills, Los Angeles, Santa Monica, West Hollywood, CA, and other areas.
Suitability of Laser Skin Tightening
If the abdominal area reveals loose skin due to the after-effects of pregnancy, aging, lack of exercise, previous surgeries, or other factors, the condition can be improved with laser based techniques. Laser skin tightening is a non-surgical procedure that involves the penetration of laser energy into the deeper layers of the affected skin. It stimulates the growth of natural collagen, and promotes skin tightening.
Advanced laser based techniques such as SlimLipo laser liposuction are also very effective. With laser liposuction, it is possible to reduce unwanted fat and tighten the abdominal skin. The procedure may be combined with a mini tummy tuck for more comprehensive results. Even when this procedure is used alone, it may produce very positive outcomes for some patients. Patients with loose skin and minor tummy fat, who notice skin laxity only when they bend over, may benefit more from laser liposuction method.
Limitation of Laser Skin Tightening
The challenge with laser skin tightening as a procedure for tummy is that the results can be quite unpredictable. For instance, patients who have stretch marks may not respond well to laser skin tightening because the skin has been compromised in that area. If a significant amount of redundant skin is present in the tummy area, the cosmetic surgeon may not recommend laser skin tightening.
When is Tummy Tuck Most Suitable?
An experienced plastic surgeon will evaluate the condition of skin, the presence of subcutaneous fat, visceral fat, and skin laxity of the anterior abdominal wall before determining the most suitable procedure. Patients with multiple stretch marks may be best served by a full abdominoplasty. Tummy tuck can contour the abdomen, tighten the loose skin, and flatten the abdominal bulge. However, the procedure will leave a scar, which is not the case with laser skin tightening.
Dr. Kim will explain the pros and cons of both procedures to his patients in Beverly Hills, Los Angeles, Santa Monica, West Hollywood, CA, and nearby locations during the initial consultation. If the abdominal muscles are loose or separated, tummy tuck surgery would be the right option. Patients who are keen to remove loose skin above the navel may also require a full tummy tuck surgery.
Click here see more plastic surgery procedures and treatments performed by Board Certified Plastic Surgeon, Dr. Eugene Kim on patients in Beverly Hills, Los Angeles, West Hollywood, Santa Monica and surrounding areas or call 310-271-6996 to schedule a consultation.