Brazilian Butt Lift
Brazilian Butt Lift (Brazilian Butt Augmentation)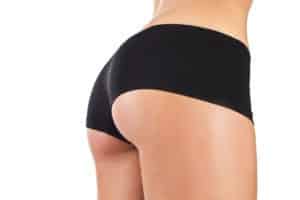 Brazilian Butt Lift (BBL) surgery (also referred to as Brazilian Butt Augmentation) is performed to augment the size and projection of the buttocks, while enhancing the contours and overall proportions of the patient's backside. The recent media focus on the full, lifted derrieres of celebrities like Kim Kardashian, Jennifer Lopez, and Jessica Biel has resulted in a market flooded with countless creams, pills and exercise videos promising to give consumers the augmented buttocks they desire. However, most of these claims are unsubstantiated and without scientific evidence, or offer only temporary results.
The most effective, long-term solution for the optimal enhancement of the buttocks is Brazilian Butt Lift (BBL) surgery performed by a board-certified plastic surgeon. With a two-step process involving the removal of fat cells from undesirable areas on the patient's own body, and a transfer of this fat to the buttocks, BBL surgery allows for the creation of an enviably curvaceous physique, similar to that of Hollywood's hottest voluptuous vixens.
The BBL procedure demands a high level of precision, artistry, and technique, as the plastic surgeon is tasked with creating enhanced contours for the buttocks while simultaneously improving the shape of the entire physique. Dr. Eugene Kim is a well-respected, double board certified plastic surgeon whose private practice serves patients in Beverly Hills, Los Angeles, and Santa Monica, California. Dr. Kim has extensive experience performing Brazilian Butt Lift surgeries and will create a customized surgical plan to ensure that your BBL results are tailored to complement your physique and to fulfill your specific surgical goals.
Brazilian Butt Lift Procedure
Brazilian Butt Lift surgery can take between 90 minutes and 4 hours, depending upon how much fat is being transferred, the desired size/shape of the buttocks, and where the fat is being harvested from. The BBL procedure is typically performed on an outpatient basis using either general anesthesia or a combination of local anesthesia and IV sedation.
BBL surgery has two main components:
· Tumescent Liposculpturing: during this portion of the procedure, tumescent fluid used is injected into the previously designated treatment area (common sites include the abdomen, flanks, back, chest and arms) and a cannula is used to suction out excess fat cells so that they can be processed, sterilized, and placed into a syringe
· Autologous Fat Transfer: the second half of the BBL procedure involves the injection of the previously harvested fat into the deep musculature and fatty tissue of the buttocks
Brazilian Butt Lift Experience
Brazilian Butt Lift Recovery
Your recovery process from BBL surgery will typically involve a temporary loss of sensation in the treatment areas and some degree of bruising, swelling, and pain. We advise our patients to arrange for a friend or family member to care for them and assist them for the first 24 hours after the procedure. While most patients find that they are able to walk around within 1-2 days of surgery, it is recommended that you avoid sitting on your bottom as much as possible during the first 7-14 days of your recovery.
Dr. Kim will provide you with a set of recovery guidelines that are designed to minimize your discomfort and accelerate the healing process. These instructions include: sleeping on your stomach or side for two weeks; limiting physical activities for at least 14-21 days; and wearing a specially designed compression garment for approximately one month. Beyond this initial recovery phase, you may slowly start to integrate your regular activities as it becomes comfortable to do so. You will be able to observe the final results of your BBL surgery several weeks after your procedure, and because liposculpturing only requires very small incisions, you will be left with minimal scarring.
Contact Dr. Kim
Beverly Hills plastic surgeon Dr. Eugene Kim is committed to utilizing state-of-the-art equipment and techniques, ensuring quality results for every cosmetic surgery procedure. Dr. Kim's dedication to providing his patients with high quality, individualized care has helped him to build a reputation for surgical excellence and patient satisfaction. If you would like additional information about Brazilian Butt Lift surgery or any other aesthetic enhancement procedure, please contact our office today to schedule your initial consultation with Dr. Kim.