Considering a Tummy Tuck Surgery (Abdominoplasty)?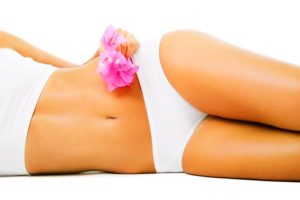 If you are bothered by the excess accumulation of fat deposits in the abdominal area, and find yourself unable to improve the condition with diet or exercise, you may consider the option of tummy tuck surgery with an experienced cosmetic surgeon. Tummy tuck surgery or abdominoplasty is designed to surgically remove excess skin and fat from the abdominal area and restore a tighter, firmer, and slimmer abdomen.
Dr. Eugene Kim is a board certified plastic surgeon providing tummy tuck and other procedures for the breast, body and face. Patients in Beverly Hills, Los Angeles, Santa Monica, West Hollywood, CA, and nearby areas have an opportunity to receive safe, proven and effective treatments from Dr. Kim.
Why Choose Tummy Tuck?
Many people mistakenly believe that tummy tuck is suitable only for overweight or obese people. However, the fact is that many people with normal weight tend to develop excess fat around the abdomen due to sedentary lifestyle, hereditary factors, certain medications, previous surgeries, or other reasons. The cosmetic surgeon may recommend tummy tuck procedure ideally for people who have a stable, moderate body weight, but suffer from excess skin and fat around the waist.
Patients should also know what tummy tuck cannot do. It is not a weight loss procedure, and just designed to provide a flatter and firmer appearance of the abdominal area. Tummy tuck is also not a replacement for a balanced diet and a regular exercise program. Such regimen must be continued to prolong the effects of the procedure in the long run. Stretch marks following a pregnancy may or may not go away with tummy tuck.
Who is a Good Candidate?
As an experienced plastic surgeon, Dr. Kim will evaluate the patient's condition carefully before recommending a tummy tuck surgery. Patients in Beverly Hills, Los Angeles, Santa Monica, West Hollywood, CA, and other locations may consult with him to know whether tummy tuck is an appropriate procedure in their case. The suitable candidate for tummy tuck will be an adult who has good health, stable and moderate weight, and having excess fat pockets and loose skin in abdominal area that is resistant to exercise and diet.
Procedure
Tummy tuck procedure may be performed using intravenous sedation or general anesthesia, as the case may be. A major tummy tuck procedure will usually begin with the surgeon placing a horizontal incision on the tummy in the area between the pubic hairline and the navel. The size and shape of the incision will depend on the scale of surgery required.
Weak and separated muscles will be repaired and sutured together through the incision to firm up the abdominal area. Excess fat, tissue, and loose skin will be excised. A second incision near the navel area may be required if the loose skin from upper abdominal area needs to be removed. Incisions will finally be closed with sutures or skin adhesive.
Recovery
Most patients will recover within one to two weeks following tummy tuck surgery. Strenuous exercises should be avoided for at least one month. Recovery will be largely comfortable after the first week of surgery.
Click here see more plastic surgery procedures and treatments performed by Board Certified Plastic Surgeon, Dr. Eugene Kim on patients in Beverly Hills, Los Angeles, West Hollywood, Santa Monica and surrounding areas or call 310-271-6996 to schedule a consultation.