Mini Tummy Tuck vs Full Tummy Tuck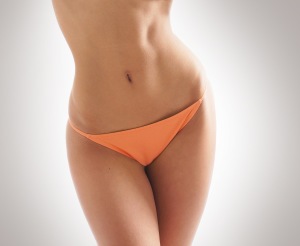 Tummy tuck procedure may be recommended by a cosmetic surgeon if the patient is unhappy with the stubborn fat accumulation in the abdominal area, which is resistant to diet or exercise. Some candidates may require a full tummy tuck surgery to achieve their aesthetic goals, while others may need only a partial abdominoplasty or a mini tummy tuck to meet their goals.
As an experienced plastic surgeon, Dr. Eugene Kim explains to his patients various aspects of both full and mini tummy tuck with reference to their body condition so that they can make an informed choice. Patients in Beverly Hills, Los Angeles, Santa Monica, West Hollywood, CA, and other areas have an opportunity to consult with Dr. Kim for a choice between full and mini tummy tuck surgery.
Basic Difference
The cosmetic surgeon will evaluate the location and extent of excess skin in the abdominal area in order to determine whether full or mini tummy tuck procedure may be required. If excess skin is present only in the area beneath the navel, the surgical excision would stop at the navel. The surgeon will pull down and trim the loose skin.
This is a relatively minor procedure, involving shorter duration, and lower downtime. The only scar that may appear in this procedure will be located at the lower abdomen under the swimsuit line. This procedure is called a mini tummy tuck, partial abdominoplasty or a lower tummy tuck.
Stretched Navel
However, in cases where the navel is stretched out or there is substantive loose or wrinkled skin above the navel, it will require a fully tummy tuck procedure. The procedure will involve a surgical detachment of the abdominal skin from the belly button. This will ensure that the upper abdominal skin is not tethered at the navel.
Thereafter, the plastic surgeon will pull the skin downward to tighten both upper and lower abdominal skin. In a full tummy tuck, apart from the scar in the lower abdomen, a small scar around the navel region will show up. Dr. Kim provides both mini and full tummy tuck surgeries to patients in Beverly Hills, Los Angeles, Santa Monica, West Hollywood, CA, and surrounding communities.
Muscle Tightening
Due to aging factor, sedentary lifestyle or a pregnancy, in some cases the abdominal wall fascia that provides support to the abdominal muscles is stretched, and the rectus muscles are separated. In such a situation, when the patient stands up, the belly tends to protrude forward. This happens because the abdominal wall is not able to support the bowels adequately. This condition can be correct usually along with a fully tuck procedure.
The muscles and the fascia are tightened before the skin is tightened. Full tummy tuck becomes essential in such cases because once the fascia is tightened and put in its correct position, the overlying loose skin becomes more apparent, and can be corrected only with a full abdominal skin excision. If fat reduction in the upper abdominal area is necessary, a full tummy tuck will achieve the other. In other cases, lower abdominal fat may be removed just with a mini tummy tuck.
Click here see more plastic surgery procedures and treatments performed by Board Certified Plastic Surgeon, Dr. Eugene Kim on patients in Beverly Hills, Los Angeles, West Hollywood, Santa Monica and surrounding areas or call 310-271-6996 to schedule a consultation.