Breast Augmentation Plastic Surgeon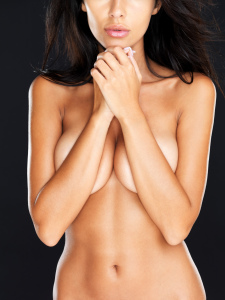 Breast augmentation is the second most popular plastic surgery procedure in the US today after liposuction. When performed by a skilled and experienced cosmetic surgeon, breast augmentation can produce highly desirable and sustainable aesthetic outcomes. The procedure involves surgical insertion of breast implants to increase the size and fullness of breasts in proportion to the rest of the body.
Dr. Eugene Kim is a double board certified plastic surgeon providing procedures such as breast augmentation at his state of the art plastic surgery practice. Along with his talent team of professionals, Dr. Kim provides procedures that combine the science of plastic surgery with a sense of art and aesthetics. He receives patients from Beverly Hills, Los Angeles, Santa Monica, West Hollywood, CA, and surrounding areas.
Personalized Treatment Approach
Dr. Kim is committed to providing personalized care and attention to every patient seeking a plastic or reconstructive procedure. Particularly in a procedure such as breast augmentation, it is important for the cosmetic surgeon to customize the treatment in accordance with the unique aesthetic needs and goals of the patient.
Dr. Kim will help the patient make informed decisions with regard to the type and size of breast implants, the type and location of incisions, and the placement position of implants in the breast tissue. With close involvement of the patient, Dr. Kim is able to ensure that the procedure is tailored to meet the specific needs of the patient.
Education and Training
Double board certified plastic surgeon Dr. Kim received his medical degree from the University of Medicine and Dentistry of New Jersey, New Jersey Medical School, Newark, NJ. He received six years of training in general surgery at the University Hospital in New Jersey.
Dr. Kim earned several honors during his residency in general surgery, and was inducted into the Alpha Omega Alpha medical honor society. Following his private practice in plastic surgery, Dr. Kim has been providing a range of procedures related to the breast, body and face to patients in Beverly Hills, Los Angeles, Santa Monica, West Hollywood, CA, and nearby locations.
Honors and Awards
Dr. Kim has been widely recognized throughout his career for his various accomplishments in the field of cosmetic and reconstructive plastic surgery. Some of the key awards won by him include the following:
Alpha Omega Alpha National Medical Honor Society, 2007
General Surgery Chairman's Award for Leadership, 2007
Arnold P. Gold Foundation, Resident Award for Teaching and
Humanism in Medicine, 2007
Golden Apple Award, Resident Award for Teaching in Medicine 2007
Golden Apple Award, Resident Award for Teaching in Medicine 2003
Dean's Letter of Commendation, UMD – New Jersey Medical School 1998
Cum Laude, Dartmouth College 1997
Citation in Physics, Dartmouth College 1995
Additional Pursuits
In addition to pursuing his private practice, Dr. Kim currently serves as an Assistant Clinical Professor in Plastic Surgery at the University of California, Irvine, where he actively participates in resident education. He also attends Korean-American Graduate Medical Association (KAGMA) and Korean Medical Association (KMA) meetings in Los Angeles.
Click here see more plastic surgery procedures and treatments performed by Board Certified Plastic Surgeon, Dr. Eugene Kim on patients in Beverly Hills, Los Angeles, West Hollywood, Santa Monica and surrounding areas or call 310-271-6996 to schedule a consultation.