Breast Augmentation Mastopexy (BAM)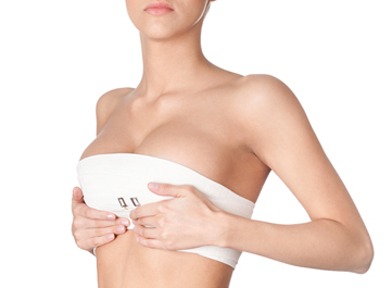 Breast Augmentation Mastopexy (BAM) is a popular plastic surgery procedure in the United States. The surgery addresses both sagging breast tissue and loss of breast volume. Your plastic surgeon may recommend BAM procedure if you want to improve the overall appearance of your breasts.
Board certified plastic surgeon Dr. Eugene Kim provides breast augmentation mastopexy to patients in Beverly Hills, Los Angeles, Santa Monica, West Hollywood, CA, and surrounding locations.
Who is an Ideal Candidate?
During the initial consultation, your cosmetic surgeon shall evaluate your personal aesthetic goals against your breast anatomy. The surgeon shall determine whether you are a good candidate or not based on your needs. BAM is usually appropriate for women who are unhappy with their droopy or small breasts. Generally, this cosmetic surgery is performed on women who are 40 or above.
However, certain younger women may also find the BAM cosmetic surgery procedure to be beneficial after pregnancy/lactation or if they have recently lost a substantial amount of weight. Heredity is another common factor that requires women to undergo breast surgery at a relatively younger age.
The following signs indicate that you are a good fit for this plastic surgery:
Sagging breasts that have lost shape and volume
Pendulous breasts with a flatter or elongated shape
Nipples tend to sag without support
Areolas or nipples are downward pointing
Asymmetrical breasts
Benefits of Breast Augmentation Mastopexy (BAM)
BAM plastic surgery can provide several benefits to the right candidate, including:
Single surgery to rectify most breast appearance problems
Fewer incisions required to target both shape and volume
Implants can be inserted while improving the shape of breasts
BAM lowers downtime as opposed to multiple breast surgeries
BAM effectively combines placement of breast implants with breast lift techniques. This means you get the same kind of benefits of multiple breast surgeries with fewer side effects and potential risks while getting a Breast Augmentation Mastopexy.
Breast Augmentation Mastopexy Procedure
Your plastic surgeon will begin placing discreet incisions right beneath the breast crease following general anesthesia. Incisions will be placed around the areolas as well. Saline or silicone implants will be inserted once pockets in your breast are created. The implants are usually placed right under the pectoral muscles.
Your cosmetic surgeon shall make the incisions and place the implants in accordance with the pre-determined customized cosmetic surgery plan. The surgeon, after inserting implants, will excise any loose breast skin. They will also tighten the tissue for a subtle breast lift.
Sometimes, repositioning of nipples and significant breast reduction is required to achieve the desired results. In such a scenario, the surgeon will insert the implants after performing the breast lift. Your plastic surgeon will quickly close the incision using sutures once all procedures are completed.
The incisions will be covered by bandages for a day or two. You will have to wear a surgical bra once the bandages are removed. Cosmetic surgeon Dr. Eugene Kim receives patients from Beverly Hills, Los Angeles, Santa Monica, West Hollywood, CA, and nearby areas for breast augmentation mastopexy.
Contact the Office of Beverly Hills Plastic Surgeon Dr. Eugene Kim
Click here see more plastic surgery procedures and treatments performed by Board Certified Plastic Surgeon, Dr. Eugene Kim on patients in Beverly Hills, Los Angeles, West Hollywood, Santa Monica, CA and surrounding areas or call 310-271-6996 to schedule a consultation.