Buttock Enhancement Surgery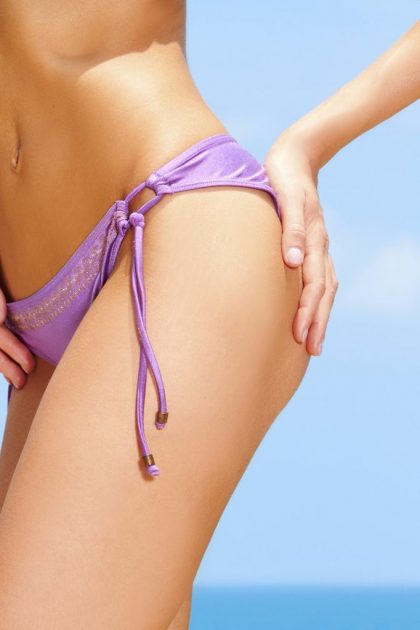 People who are unhappy with the shape, size, or appearance of their rear ends can benefit from butt implants. This popular plastic surgery procedure involves buttock augmentation by using surgical implants. Artificial implants can help the patient attain shapelier, larger, and more sensuous rear ends.
The procedure is beneficial for both men and women who want a more proportionate figure. Women are usually unhappy with the shape and size of their rear ends when trying to get an hour glass figure. Men may want buttocks implant enhancement surgery if they have poorly developed or flat rear end and want to augment its shape.
Board certified plastic surgeon Dr. Eugene Kim provides buttock implants enhancement surgery to patients in Beverly Hills, Los Angeles, Santa Monica, West Hollywood, CA, and surrounding communities.
Ideal Candidate for Buttock Implants
Your cosmetic surgeon will decide whether you are a good candidate for this particular plastic surgery or not. Candidates need to be at least 18 years of age and in good health. They should be psychologically stable and aware that the implants are intended to improve their appearance, not achieve perfection.
You should not shy away from discussing your expectations and goals during the initial consultation with your plastic surgeon. This will allow the surgeon to determine whether you are an ideal candidate for buttock augmentation or not.
Procedure for Buttock Implants Enhancement Surgery
Butt augmentation is usually an outpatient cosmetic surgery procedure and requires 2 – 3 hours. However, the time taken to perform the procedure varies on the surgeon's experience, patient anatomy, technique used and other factors.
Buttock implants are usually inserted through an incision made on the buttock crease. However, your cosmetic surgeon may decide to place the implants by making a crease on the back of the thigh where it meets the cheek.
A large pocket is created by the surgeon to insert the butt implants. The implant for both male and female patients can be placed below or above the muscle. The surgeon will confirm that both cheeks look natural and symmetrical once the implants are placed.
The incisions will be closed and a compression garment applied. Full recovery can take at least several months after the cosmetic surgery. However, patients can return to a quiet, low-intensity routine after a few days.
Benefits of Butt Implants
Buttock implants enhancement plastic surgery helps in improving the shape, size, and overall appearance of the backside. Patients can benefit from the increased volume and size of their buttocks with implants. Men and women who are unhappy with the shape of their butt can also benefit from attaining a more sensuous rear end.
There are two significant benefits that butt implants offer over butt augmentation using fat injections:
They allow for required augmentation in patients that have no or very little available fat deposits
Inserting implants doesn't carry the risk of fat re-absorption
Butt implants have been proven to be effective and safe in both men and women. Cosmetic surgeon Dr. Eugene Kim receives patients from Beverly Hills, Los Angeles, Santa Monica, West Hollywood, CA, and nearby areas for buttocks implants enhancement surgery.
Contact the Office of Beverly Hills Plastic Surgeon Dr. Eugene Kim
Click here see more plastic surgery procedures and treatments performed by Board Certified Plastic Surgeon, Dr. Eugene Kim on patients in Beverly Hills, Los Angeles, West Hollywood, Santa Monica, CA and surrounding areas or call 310-271-6996 to schedule a consultation.