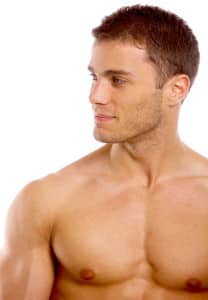 Gynecomastia surgery, or male breast reduction is a cosmetic surgery procedure designed to reduce breast size in men who are distressed with the appearance of abnormally sized breasts, also called 'man boobs' in common parlance. The procedure may include surgical excision of excess glandular tissue, fat reduction through liposuction, or both combined. Gynecomastia condition can be treated safely with significant or complete correct by an expert surgeon.
Dr. Eugene Kim is a double board certified plastic surgeon providing a wide range of cutting edge procedures for both women and men. Dr. Kim performs male breast reduction surgery for suitable candidates. He provides this procedure to patients in Beverly Hills, Los Angeles, Santa Monica, West Hollywood, CA, and surrounding locations.
Who should Receive Gynecomastia Surgery?
Men who are bothered by the existence of one or more of the following conditions will usually make outstanding candidates for breast reduction cosmetic surgery:
Reluctance in revealing the chest in public, and hesitation in activities such as exercise at a gym or involvement in outdoor sports because of overly large sized breasts.
Strong desire to improve manly body contours through breast reduction.
Experiencing adverse emotional and psychological consequences because of abnormally sized male breasts.
Reluctance to meet people or perform confidently at the workplace or in social settings due to awkward breast size.
Surgical Plan
The plastic surgeon will prepare a customized surgical plan to restore healthy male breast contours and correct any deformities related to the nipple or areola through gynecomastia procedure. As compared to the fatty tissue, the glandular breast tissue is usually denser. This may have to be excised surgically, or the surgeon may use both excision and liposuction.
The appropriate surgical technique will be decided according to the patient's condition and the chances of post-operative skin redundancy. Skin shrinkage is generally higher in younger candidates. Experienced cosmetic surgeon Dr. Kim receives male patients from Beverly Hills, Los Angeles, Santa Monica, West Hollywood, CA, and nearby areas for gynecomastia surgery.
Techniques
Intra-areolar Incision
This is a popular technique, involving an incision extending along the lower half of the areola. The incision length will vary according to the patient's breast anatomy.
Skin Resection
This technique is used in more severe cases. The surgeon will remove a portion of the breast structure and transpose the nipple and areola as needed.
Pull-through Technique
This less invasive technique requires only a minor incision made around the border of the areola. The surgeon will pull the glandular tissue from the overlying areola through the incision using liposuction.
Ultrasonic Liposuction
If the surgeon finds excessive presence of fatty tissue in the breast area, an ultrasonic liposuction may be performed. In general, more patients require liposuction in conjunction with surgical excision, while a few will need only liposuction.
Recovery
Most patients who go through fatty tissue liposuction as well as glandular tissue excision will recover in about one week to 10 days. Those who go through only liposuction will recover in about three to five days.
Click here see more plastic surgery procedures and treatments performed by Board Certified Plastic Surgeon, Dr. Eugene Kim on patients in Beverly Hills, Los Angeles, West Hollywood, Santa Monica and surrounding areas or call 310-271-6996 to schedule a consultation.
Visit and follow Dr. Eugene Kim on Instagram! See his confident, beautiful patients enjoying life after breast, facial and body contouring procedures.