Remove Eye Bags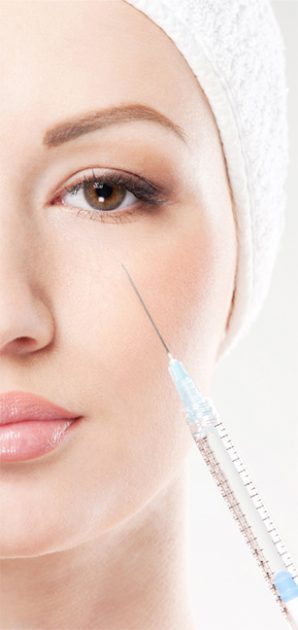 Dermal filler injections in the lower eyelids can be highly efficient in reducing under-eye hollows. You can experience reduced dark circles because of shadowing with under-eye fillers. Patients can enjoy a less tired, refreshed appearance. Dermal fillers can also be used for camouflaging mild under-eye bags, especially in patients that are in their 20s – 30s. The procedure is also known as non-surgical blepharoplasty.
Majority of patients that require dermal fillers under their eyes, need it in their inner cheeks or mid-face area for creating a balanced look. This helps in creating a smooth transition from the lower eyelid to cheeks as well. Board certified plastic surgeon Dr. Eugene Kim provides dermal fillers for the reduction or removal of the shadow of the lower lids to patients in Beverly Hills, West Hollywood, Los Angeles, and surrounding locations.
How Do Under-eye Dermal Fillers Work?
Under-eye filler is a highly targeted injection consisting of hyaluronic acid. It's injected for minimizing unwanted hollows, dark circles, wrinkles, and lines. Surgeons make use of various different brands of eye filles, such as Juvederm Ultra, Belotero, Restylane, Radiesse, and Restylane Silk for treating tear trough deformities and other concerns.
Under eye fillers can be used anywhere in the eye area where there is an undesired defect, contour or line, such as:
Crow's feet fillers: These dermal fillers can be used for softening lines that fan outwards from the eye corners. They may deepen when you laugh or smile.
Tear trough filler: These are used for smoothing out curved lines from under the eyes. They start at the inside corner of the eyes and run downwards to the cheeks.
Under-eye wrinkle filler: These dermal fillers can be used for softening or erasing other wrinkles and fine lines around the eyes.
The skin around the eyes is prone to wrinkles because it is thin. You should keep realistic expectations. Patients with smoother and thicker skin under the eyes may attain better results than those with thinner skin. Dermal fillers can help in reducing shadowing. However, they cannot be used for changing the skin color under the eyes. Your cosmetic surgeon will form a personalized treatment plan for addressing desired issues.
It takes only a few minutes for injecting under eye fillers. The filler may take time to settle after that. You may need to give it a few weeks for swelling to subside and bruising to fade.
Tear Trough Fillers
Tear trough dermal filler can help you minimize the appearance of dark circles that are caused from shadows. However, fillers cannot be used for changing skin pigmentation or reducing dark circles. Tear trough deformity refers to the hollow or line running from the inside corner of the eye towards the cheek.
This can create shadows in the under-eye area. Tear trough deformity is a natural result of the way the eyes are shaped. However, patients seek treatment because it lends them a tired or older looking appearance.
Cosmetic surgeon Dr. Eugene Kim receives patients from Beverly Hills, West Hollywood, Los Angeles, and nearby areas for dermal fillers to decrease or remove the shadow of the lower lids.
Contact the Office of Beverly Hills Plastic Surgeon Dr. Eugene Kim
Click here see more plastic surgery procedures and treatments performed by Board Certified Plastic Surgeon, Dr. Eugene Kim on patients in Beverly Hills, Los Angeles, West Hollywood, Santa Monica, CA and surrounding areas or call 310-271-6996 to schedule a consultation.