Dermal Fillers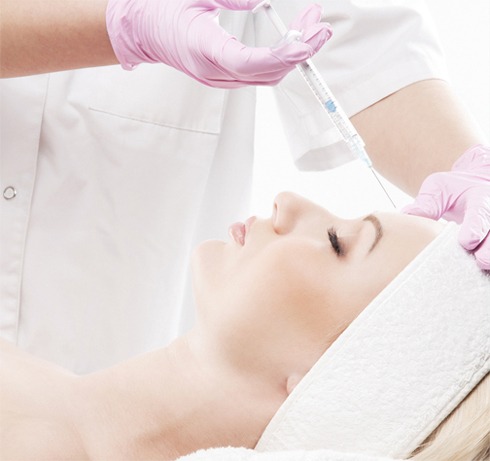 There are several different types of facial contouring dermal fillers available for improving contour deformities and reducing wrinkles and fine lines. They can also be used for adding volume to hollowed cheeks, lips, and temple areas. Juvéderm, Juvéderm Voluma XC, Restylane, Belotero, Radiesse, and Sculptra Aesthetic have unique benefits that will enhance natural beauty. They offer long-lasting results in a natural and non-surgical way.
Customized facial contouring with dermal fillers is an ideal treatment for correcting contour anomalies and reducing the early signs of facial aging. There is minimal to zero downtime. The procedure can also be used for enhancing and complementing surgical and nonsurgical treatments.
Board certified plastic surgeon Dr. Eugene Kim provides dermal fillers for the reconstruction of facial contour deformities to patients in Beverly Hills, West Hollywood, Los Angeles, and surrounding communities.
Juvederm, Restylane and Belotero
Helpful in multiple treatment areas, such as tear troughs and lips
Hyaluronic acid based
Results are immediate
Average results last for 6 – 9 months, but can be longer in tear troughs and other areas
Maintenance treatments are required
Can be used with Botox, Dysport and CO2 laser treatments
Juvederm Voluma
First hyaluronic acid filler to get FDA approval for cheek volumizing and contouring
Useful in jowls, cheeks, and nasolabial folds among other facial areas
Immediate results
Results last up to 2 years
Contains local anesthetic (lidocaine) for enhanced comfort
Made with cross link technology for achieving a lifting effect
Radiesse
Calcium-based dermal filler
Injected in deep facial tissue
Useful in cheeks, temples, and larger areas
Results are immediate
Results last for 6 – 12 months
Sculptra Aesthetic
Poly-L lactic acid based dermal filler
Acts as a collagen stimulator
Used for increasing volume over time in temples and other areas
Multiple sessions are usually required
Results are not immediate
Not for patients with a history of excessive scar and keloid formation
Facial Aesthetic Concerns Treated with Dermal Fillers
Parentheses or smile lines
Vertical lines above lips
Marionette lines
Hollowed or flattened temples or cheeks
Deep lines between brows when used in combination with Botox
Tear troughs
Thin lips that lack definition and volume
Overview of the Filler Injection Procedure
Your surgeon will determine the best dermal fillers for your goals after a thorough and personalized consultation. All treatments can be performed on the same day. Treatments are provided in-office. You can choose from both local and topical anesthetics as per your comfort.
Recovery in Dermal Filler Procedures
In general, all dermal filler treatments come with minimal recovery period. However, this can change depending on the type of filler used. You may experience swelling in the lips for several days following the procedure. Redness and swelling will resolve within a few hours in other areas. You should keep the downtime in mind while planning important events.
You would require routine maintenance treatments. Results are usually apparent from 6 to 24 months depending on the type of filler used and the area treated. Patients should have reasonable expectations to experience the most satisfying and logical outcome – based on what they have been told, read, and seen.
Cosmetic surgeon Dr. Eugene Kim receives patients from Beverly Hills, West Hollywood, Los Angeles, and nearby areas for dermal fillers to reconstruct contour deformities in the face.
Contact the Office of Beverly Hills Plastic Surgeon Dr. Eugene Kim
Click here see more plastic surgery procedures and treatments performed by Board Certified Plastic Surgeon, Dr. Eugene Kim on patients in Beverly Hills, Los Angeles, West Hollywood, Santa Monica, CA and surrounding areas or call 310-271-6996 to schedule a consultation.