Dermal Fillers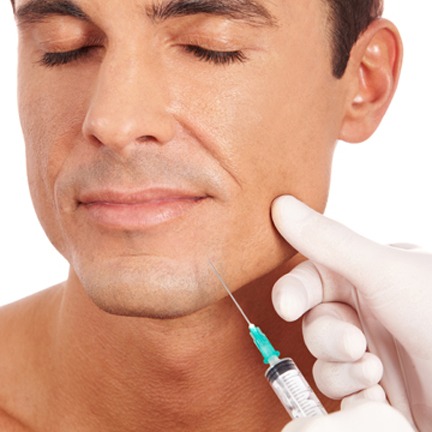 Cosmetic fillers are injected beneath the skin for making it fuller and plumper. There are fewer wrinkles and the skin appears younger after these injections. Injectable dermal fillers have been in use for decades. However, medical advances in recent years have brought new versions to the forefront of wrinkle reduction treatment.
Some of the newer versions of dermal fillers are even semi-permanent in nature. However, it's vital that you learn as much as you can about your filler options during your consultation with a cosmetic surgeon.
Board certified plastic surgeon Dr. Eugene Kim provides dermal fillers for softening facial creases and wrinkles to patients in Beverly Hills, West Hollywood, Los Angeles, and surrounding communities.
Hyaluronic Acid Fillers
Hyaluronic acid is a naturally occurring compound in the skin. However, it gets depleted with age. There are various dermal fillers with natural and synthetic HA. Hyaluronic acid molecules break down more gradually in some of the newer products. This allows results to last for 9 months and longer. Allergic reactions to this product are rare.
Poly-L lactic Acid (Sculptra) Fillers
Poly-L lactic acid (PLLA), when injected beneath the skin, stimulates the cells to create collagen. PLLA is nontoxic and been widely in use as a suture material. It is often used off-label for treating wrinkles in healthy people as well. The results are considered semi-permanent, which means they last for months.
Calcium Hydroxylapatite (Radiesse) Fillers
The FDA, in 2006, approved calcium hydroxylapatite as a cosmetic injectable. The dermal filler is made from minerals that provide bones with strength and texture. The minerals are powdered into tiny particles and suspended in a water-based solution that is directly injected underneath the skin.
Polymethyl methacrylate (PMMA) Fillers
This is a semi-permanent dermal filler injectable that doesn't break down readily. PMMA is different from biological product. It also offers semi-permanent results.
Popular Anti-Wrinkle Dermal Fillers
These are a few popular dermal injectables for reducing wrinkles:
Juvederm
It is made of hyaluronic acid and contributes to hydration and volume. It is designed for correcting moderate to severe facial folds and wrinkles temporarily. Juvederm is made by Botox manufacturers, Allergan.
Restylane
This non-animal, biodegradable gel is made from hyaluronic acid. Restylane is a type of soft-tissue dermal filler which provides volume to the skin. The product can smooth facial wrinkles and folds around the eyes and mouth.
Sculptra
This dermal injectable is the first FDA approved injectable for restoring lost facial volume. It consists of synthetic polylactic acid and can be used for correcting lipoatrophy in patients with HIV.
Captique
The dermal filler is used for facial wrinkles and folds around the mouth and nose. It adds volume and consists of non-animal based hyaluronic acid.
Hylaform
The injectable is used for reducing moderate to severe wrinkles around the mouth and nose. It contains chemically modified HA that is designed for smoothing the skin.
Radiesse
This synthetic dermal filler contains calcium hydroxyapatite. It is used for correcting wrinkles and folds. Results are longer-lasting because the skin creates collagen around CaHa microspheres.
Cosmetic surgeon Dr. Eugene Kim receives patients from Beverly Hills, West Hollywood, Los Angeles, and nearby areas for dermal fillers to soften facial creases and wrinkles.
Contact the Office of Beverly Hills Plastic Surgeon Dr. Eugene Kim
Click here see more plastic surgery procedures and treatments performed by Board Certified Plastic Surgeon, Dr. Eugene Kim on patients in Beverly Hills, Los Angeles, West Hollywood, Santa Monica, CA and surrounding areas or call 310-271-6996 to schedule a consultation.