Recessed Scar Treatment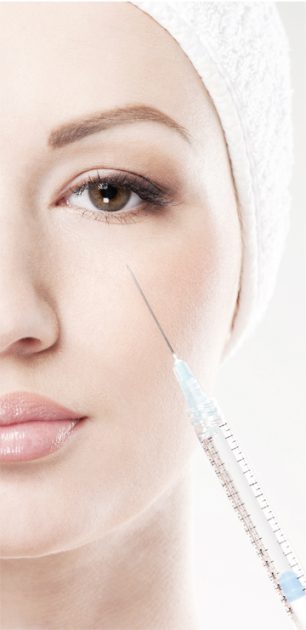 Have you had a successful acne treatment, but it left scars behind? You probably feel that your facial appearance is undermined because of the presence of conspicuous recessed scars. Fortunately, you don't need to worry anymore since dermal fillers can be a dependable solution for reducing facial scars. The treatment is effective in treating and eliminating several types of scars.
Board certified plastic surgeon Dr. Eugene Kim provides dermal fillers for improving the appearance of recessed scars to patients in Beverly Hills, West Hollywood, Los Angeles, and surrounding locations.
Overview of Acne Scar Treatment with Dermal Fillers
Dermal injectables for treating acne scars make use of synthetic soft tissue fillers that raise depressed acne scars and smooth skin texture/appearance. Strategic injectable fillers can be used for significantly improving:
Boxcar scars (deep, circular indentations)
Rolling scars (wave like depressions)
Other pitted scars
The type of dermal filler you use can differ based on your individual needs and treatment provider. Common dermal fillers for treating acne scars include:
Calcium hydroxylapatite fillers (Radiesse)
Hyaluronic acid fillers (Belotero, Restylane, and Juvederm)
Direct dermal filler injections at the scar site can smooth depressed and pitted acne scarring. Dermal injectables improve skin plumpness and volume. They also stimulate the production of collagen.
Candidacy for Dermal Filler Acne Scar Treatment
A candidate for facial filler treatment for facial recessed scars should be above 18 years of age. The procedure is not recommended for patients with active acne breakout or severe acne scarring.
Expected Results
Results of using dermal fillers on acne scars depend on the type of injectable you use. However, you should expect immediate temporary improvements in the appearance of depressed scars. Results will gradually continue to improve over the next few weeks as the body produces collagen.
Effect of Juvederm on Acne Scars
Juvederm is a popular dermal injectable that is used for treating deep acne scarring. It is made of hyaluronic acid that is naturally occurring in the dermal layer. Juvederm is injected into the acne scars directly where it replaces and restores collagen loss.
Your doctor may use Juvederm Ultra Plus for discreet acne scarring and Juvederm Voluma for larger areas. This also depends on the amount of collagen loss and scar depth. Juvederm doesn't involve any downtime.
Efficacy of Restylane Fillers to Reduce Acne Scars
Restylane L, Restylane Lyft, and Restylane Silk are all part of the Restylane family that can be used for treating acne scars. There is a specific thickness in each of these dermal fillers that helps in restoring lost volume or collagen in depressed atrophic scars. Continued production of new collagen is one of the primary benefits of injecting hyaluronic acid fillers, such as Restylane in acne scars.
Skilled and experienced treatment provides have a unique technique allows for injecting Restylane and undermining acne scars during the same treatment. This treatment method maximizes new collagen production and cosmetic results. Restylane and Juvederm are both safe for all skin types and skin tones.
Cosmetic surgeon Dr. Eugene Kim receives patients from Beverly Hills, West Hollywood, Los Angeles, and nearby areas for dermal fillers to improve the appearance of recessed facial scars.
Contact the Office of Beverly Hills Plastic Surgeon Dr. Eugene Kim
Click here see more plastic surgery procedures and treatments performed by Board Certified Plastic Surgeon, Dr. Eugene Kim on patients in Beverly Hills, Los Angeles, West Hollywood, Santa Monica, CA and surrounding areas or call 310-271-6996 to schedule a consultation.