Buttock Augmentation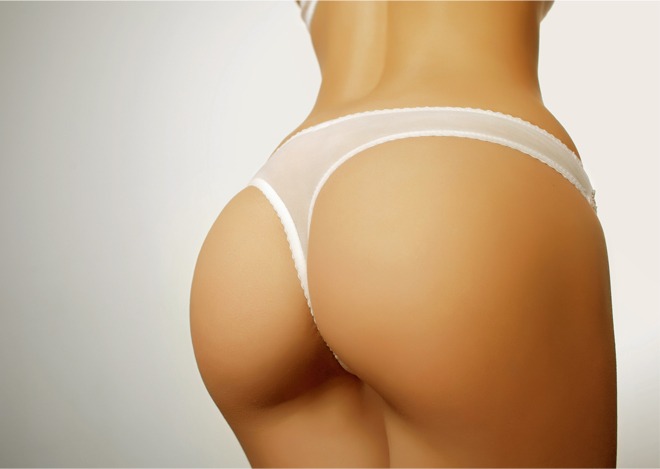 Butt augmentation is a popular cosmetic surgery among individuals looking to improve the appearance, size, and shape of their buttocks. The procedure involves the surgical insertion of synthetic body implants into the rear end for creating a shapelier, larger, and more sensuous posterior.
Patients can achieve a more proportionate figure through buttock implants if they have underdeveloped rear ends. Female butt implants can particularly help women that want to achieve an hour glass figure and are unhappy with the size of their buttocks. Male butt implants can help men with underdeveloped buttocks. They can enhance the rear ends to their liking.
The majority of buttock augmentation patients report that clothes fit better and they feel more confident because of enhanced attractiveness. Board certified plastic surgeon Dr. Eugene Kim provides buttock augmentation surgery to patients in Beverly Hills, West Hollywood, Los Angeles, and surrounding locations.
Candidacy for Buttock Implants
Butt augmentation candidates are usually 18 years of age or more and in good physical health. Patients should be stable psychologically and aware that the buttock implants are intended for cosmetic improvement rather than perfection.
During the initial consultation, your cosmetic surgeon will discuss your expectations and goals. You should candidly let them know about any specific changes that you wish to achieve through buttock implants.
Butt Enhancement Surgery
Typically, buttock enhancement cosmetic surgery is performed as an outpatient procedure that requires 1 – 2 hours. Synthetic buttock implants are placed by making an incision in the buttock crease or where the cheeks meet at the back of the thigh. This is so as to prevent the scars from being noticeable.
Your surgeon will create a large enough pocket for inserting the implants that can be placed both above and below the muscle. Your surgeon will confirm that each butt cheek looks natural and symmetrical once the implants are placed.
The incisions will be closed and a compression garment applied. Butt augmentation patients generally return to low-intensity work after a few days. It may take several months for full recovery to happen.
Benefits of Butt Implants
Butt implants are proven effective in improving the shape and size of rear ends of patients. Patients that feel their buttocks lack shape can enjoy a more sensuous and prominent backside. In addition, there are a few significant benefits of buttock implants over fat injection butt enhancement:
Buttock implants allow for butt augmentation in men and women that don't have enough fat deposits for fat transfer.
The procedure doesn't carry the added risk of fat reabsorption (unlike fat transfer surgery).
Buttock implants have been proven to be safe and effective. Buttock augmentation patients can drastically improve their appearance by coupling the procedure with liposuction and other body contouring treatments.
Choose a Qualified Plastic Surgeon
Buttock augmentation carries rare risk of complications as with every other surgical procedure. Muscle damage, nerve damage, and bleeding may occur. Buttock implants may shift causing the rear end to appear asymmetrical.
With that said, it's recommended to always work with a skilled cosmetic and plastic surgeon. Cosmetic surgeon Dr. Eugene Kim receives patients from Beverly Hills, West Hollywood, Los Angeles, and nearby areas for buttock augmentation surgery.
Contact the Office of Beverly Hills Plastic Surgeon Dr. Eugene Kim
Click here see more plastic surgery procedures and treatments performed by Board Certified Plastic Surgeon, Dr. Eugene Kim on patients in Beverly Hills, Los Angeles, West Hollywood, Santa Monica, CA and surrounding areas or call 310-271-6996 to schedule a consultation.