Breast
Lift
With
Implants Surgery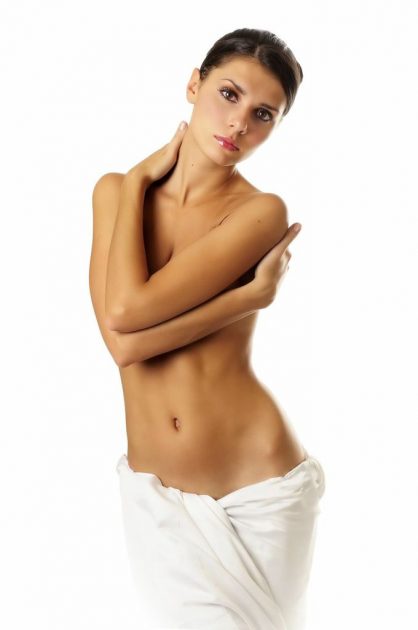 When you want to improve your breast size, but your breast skin is somewhat sagging, you may not benefit from breast implants surgery alone. Similarly, when you want a perkier and tighter breast appearance, but your volume loss in the breasts is significant, you may not benefit from a breast lift cosmetic surgery alone to achieve a youthful look of the breasts.
In these conditions, your surgeon may advise you to choose breast lift with implants cosmetic surgery. During your pre-op consultation, your surgeon will explain to you the steps involved in this procedure. Board certified plastic surgeon Dr. Eugene Kim provides breast implants with lift to patients in Beverly Hills, Los Angeles, Santa Monica, West Hollywood, CA, and surrounding communities.
Procedure Steps
Breast lift with implants is usually a more complex plastic surgery, which should ideally be performed by a highly trained and experienced breast surgeon. Your surgeon should preferably undertake this surgery at a hospital or an accredited surgery center that is fully equipped for these procedures.
Once you are in the operating room, the anesthesia team will administer general anesthesia, which will keep you in deep sleep through your procedure. You will have no recollection of it when you wake up after the surgery. An anesthesiologist may remain present during your procedure to monitor your response to anesthesia.
After anesthesia, your plastic surgeon will start the procedure by making the incisions in pre-determined and discreet locations as per your surgery plan discussed with you prior to your procedure. If the incision is placed around the borders of the areola, a second vertical incision will be created from the lower half of the areola to the breast crease.
Through these incisions, your cosmetic surgeon will place breast implants below or above your pectoral muscle as per the plan. They will utilize the same incisions to excise loose breast skin and tighten the tissue in order to give a subtle lift to your breasts and provide them a firmer, youthful look.
When the combined breast lift and breast implants surgery is performed, it is often important to reposition the nipples and areolas to create more natural appearance. The entire surgery may take anywhere from two to three hours in the operating room.
Incision Closure and Next Steps
After the completion of the surgery, your surgeon will seal the incisions with sutures. They may place temporary drainage tubes below the skin to collect excess fluid. As you awake from the anesthesia, you will be a taken to a dedicated recovery area where the staff will monitor your condition for a few hours. In most cases, you can expect to go back home the same day after your surgery.
Your breasts will be covered in bandages to protect them against infection. These will eventually get replaced with a surgical bra, which you will have to wear for several days as your surgeon suggests. Make sure to attend your follow-up appointments with the surgeon as advised. Cosmetic surgeon Dr. Eugene Kim receives patients from Beverly Hills, Los Angeles, Santa Monica, West Hollywood, CA, and nearby areas for breast lift with implants surgery.
Contact the Office of Beverly Hills Plastic Surgeon Dr. Eugene Kim
Click here see more plastic surgery procedures and treatments performed by Board Certified Plastic Surgeon, Dr. Eugene Kim on patients in Beverly Hills, Los Angeles, West Hollywood, Santa Monica, CA and surrounding areas or call 310-271-6996 to schedule a consultation.