Breast lift with implants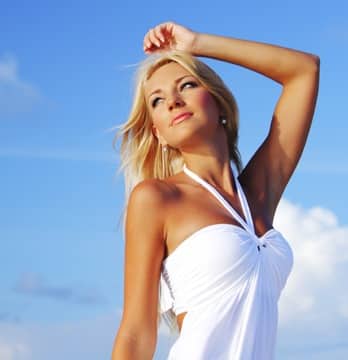 As you get older, you may start feeling that your breasts are aging too. The breast skin may become loose, causing the breasts to sag. At the same time, the loss of volume may occur, giving the breasts a "deflated" look. You could also experience these issues after pregnancy or after a major weight loss.
Many women want to choose either breast augmentation cosmetic surgery or a breast lift to restore appearance. However, if you are struggling with both breast volume loss as well as loose breast skin, just one procedure may not produce the best results.
In this situation, your surgeon may recommend breast lift with implants. At the time of initial consultation, they will explain the pros and cons of this combined procedure to help you make the right decision. Board certified plastic surgeon Dr. Eugene Kim provides breast lift with implants to patients in Beverly Hills, Los Angeles, Santa Monica, West Hollywood, CA, and surrounding communities.
Advantages of a Combined Surgery
To create a comprehensive new look of your breasts, breast augmentation with lift may be necessary. While it is possible to undergo both these surgeries separately at different times, you can achieve the optimal benefits when you choose a combined breast lift with implants surgery.
The most important benefit is that your surgeon can create the optimal cosmetic results with a combined breast augmentation and lift surgery. If the breast skin is loose, and you only want implants, you may have to choose larger and heavier implants, which will further cause the breast skin to sag over time.
Similarly, if the breasts are smaller and you choose only breast lift, it may reduce the size even further when excess breast skin is removed and the breasts are tightened.
A third possibility is that you undergo both augmentation and lift surgery at different times. Here again, the challenge is that if breast lift has already been performed, the surgeon may not have sufficient skin available to accommodate your desired size of breast implants at a later stage.
Another key benefit of breast lift with implants is that you will only go through general anesthesia once and have only one pre-op preparation and post-operative recovery period. The surgeon may be able to minimize the incisions to perform both procedures together so that subsequent scarring is reduced.
Disadvantages of a Combined Surgery
The surgery becomes relatively more invasive when both breast implants and breast lift are performed at the same time. The time you spend in the surgery room will be slightly longer, and your post-surgical recovery would be longer too.
As both these procedures are usually elective, cost could be another consideration for many patients. While the overall procedure is more cost-effective, in absolute terms you will have to pay for the combined surgery costs as well as the costs of implants when you choose breast augmentation with lift surgery.
In any case, if you are a candidate for breast implants with lift, the benefits will significantly outweigh the limitations in most cases. Plastic surgeon Dr. Eugene Kim receives patients from Beverly Hills, Los Angeles, Santa Monica, West Hollywood, CA, and nearby areas for breast augmentation with lift.
Contact Us
Click here see more plastic surgery procedures and treatments performed by Board Certified Plastic Surgeon, Dr. Eugene Kim on patients in Beverly Hills, Los Angeles, West Hollywood, Santa Monica and surrounding areas or call 310-271-6996 to schedule a consultation.