Dermal Fillers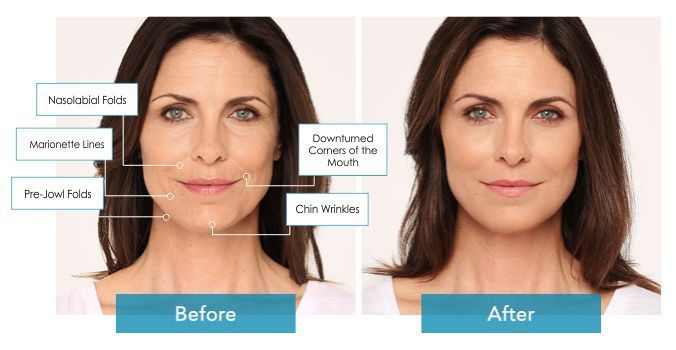 Radiesse is an FDA approved cosmetic dermal filler treatment to diminish the effect of facial aging lines and creases. Compared to many other facial fillers Radiesse is considered stronger and the results have a greater longevity. Your surgeon can perform the Radiesse injection treatment in-office with safe and predictable results.
Board certified plastic surgeon Dr. Eugene Kim provides Radiesse cosmetic filler treatment to patients in Beverly Hills, Los Angeles, Santa Monica, West Hollywood, CA, and surrounding communities.
How does it Work?
Radiesse is a next generation medical spa filler gel that can effectively treat wrinkles and fine lines around the mouth and nose, including nasolabial folds, marionette lines, and laugh lines. The filler gel contains tiny microspheres made of calcium hydroxylapatite, which is a naturally occurring compound in the body. Therefore, the injections do not require any prior allergy tests.
Following the treatment, Radiesse will perform the role of a conventional facial filler gel for the first three months. It will plump up the depleted areas of your face and reduce the wrinkles. Thereafter, the microspheres suspended in the Radiesse gel will help trigger new collagen growth. With renewed tissue development, you will have more natural looking results that last for up to two years.
Who should Choose Radiesse Filler Treatment?
If you are bothered by the appearance of some obvious signs of aging on your face, but wish to avoid invasive or complex solutions, you may choose Radiesse dermal filler injections. Prominent marionette lines, smile lines, and nasolabial folds can be diminished significantly with this treatment. Now skilled injection providers are also using Radiesse to provide non-surgical augmentation for the chin, cheeks, and nose.
Areas of Treatment
This versatile treatment will fill and volumize the thinning and depleted facial sites for a fuller and more youthful look. Radiesse cosmetic filler can play a role in helping you achieve the following goals:
Laugh lines
Marionette lines
Nasolabial folds
Frown lines
Nose bridge or tip augmentation
Lip augmentation
Chin reshaping
Cheek enhancement
Facial lipoatrophy
Jaw line contouring
Injection Process and Results
Your cosmetic surgeon may perform the Radiesse injections in-office using only local anesthesia. The treatment can be completed in less than 20 minutes. At first, the injection expert will identify one or more injection points to treat each location. An antiseptic and a local anesthetic will be applied.
The Radiesse expert will then inject the filler gel carefully underneath the skin, just below the subcutis and dermis layer. The volume of gel, the precise location of injections and the depth at which the injections are placed will make a key difference to your final outcome. You can expect to see visible improvement right after the treatment, but the results will continue to improve for about one week.
You can enjoy the benefits of a single treatment for up to two years. To maintain your youthful, rejuvenated facial appearance, you may choose Radiesse re-treatment when you feel that the effects have diminished. Cosmetic surgeon Dr. Eugene Kim receives patients from Beverly Hills, Los Angeles, Santa Monica, West Hollywood, CA, and nearby areas for Radiesse dermal filler injections.
Contact the Office of Beverly Hills Plastic Surgeon Dr. Eugene Kim
Click here see more plastic surgery procedures and treatments performed by Board Certified Plastic Surgeon, Dr. Eugene Kim on patients in Beverly Hills, Los Angeles, West Hollywood, Santa Monica, CA and surrounding areas or call 310-271-6996 to schedule a consultation.