Lip Augmentation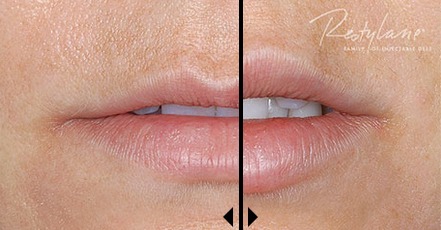 Your lips and lines around the mouth corners show first signs of aging like other parts of the face. Aging often causes the lips to lose volume and shape. There is also an increase in vertical lips on top of the lips.
Restylane Kysse and Restylane Silk are innovative dermal filler injectables that are specifically designed for providing natural looking results in the particular areas using smoother and smaller hyaluronic acid particles as compared to the ones used in other Restylane products.
Board certified plastic surgeon Dr. Eugene Kim provides lip augmentation with Restylane dermal filler injections to patients in Beverly Hills, West Hollywood, Los Angeles, and surrounding communities.
Restylane Silk
Restylane Silk is an FDA approved product that is specifically designed for augmenting lips and smoothing wrinkles around the mouth in patients that are 21 years or older. This is a transparent liquid gel which can be directly injected in the lips for creating fullness and smoothing small wrinkles around the mouth corners. It also causes the lips to thin with age.
Restylane Silk contains 0.3% lidocaine, which makes discomfort almost minimal. Treatments can last for 30 – 60 minutes. Your wrinkles will be reduced by almost 80% by the end of the treatment. Your lips will also appear fuller and the results will last for 3 to 6 months.
Restylane Silk injections can help you attain the lips you always wanted even if you were naturally born with thin lips. The results are immediate. However, they tend to dissipate over time. Hence, additional treatments are required to keep the lips looking luscious and full.
Restylane Kysse
This is the first dermal lip filler that is designed using XpresHAn Technology. It makes for natural looking volume and flexible movement with results that can last for up to a whole year. Restylane Kysse provides enhanced color and texture to the lips while maintaining expressions.
The formula is specifically designed for the movement of lips. It is made with an innovative cross-linking gel technology by XpresHAn for natural looking and precise results. Restylane Kysse is designed to be used on the lip lines and lines.
It requires smaller amount of dermal filler formula as compared to other Restylane products for achieving similar results. It is a fact that the lips require less formula as compared to the midfacial region. However, clinical trials have shown that a lesser amount of Restylane Kysse is required for achieving fuller lips as compared to other dermal fillers.
XpresHAn Technology is used by Restylane Kysse, which is the only FDA-approved lip filler using this technology. It allows for more natural movement in the lips. It also provides the lips with greater elasticity as compared to other lip fillers. Restylane Kysse has a lip-like feel that meshes perfectly with the natural tissue. Restylane Kysse is like other hyaluronic acid fillers that can be dissolved with hyaluronidase.
Bumps and any other concerns can be easily modified with this injectable treatment. Cosmetic surgeon Dr. Eugene Kim receives patients from Beverly Hills, West Hollywood, Los Angeles, and nearby areas for lip augmentation with Restylane dermal filler injections.
Contact the Office of Beverly Hills Plastic Surgeon Dr. Eugene Kim
Click here see more plastic surgery procedures and treatments performed by Board Certified Plastic Surgeon, Dr. Eugene Kim on patients in Beverly Hills, Los Angeles, West Hollywood, Santa Monica, CA and surrounding areas or call 310-271-6996 to schedule a consultation.