Lip Augmentation Enhancement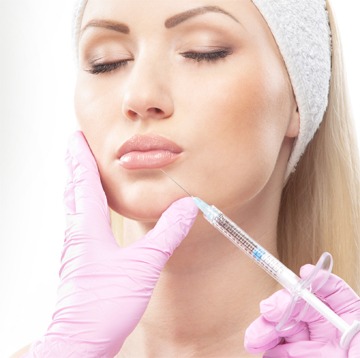 Plump and full lips can help an individual feel more attractive and confident. However, it's paramount that you carry out your research if you are looking for lip filler treatments. There are many products that offer a quick fix. However, if you want natural and safe looking lip augmentation, you should consult with a cosmetic surgeon.
Board certified plastic surgeon Dr. Eugene Kim provides lip augmentation with dermal filler injections to patients in Beverly Hills, West Hollywood, Los Angeles, and surrounding communities.
Fuller Lips with Injectable Dermal Fillers
Injectable dermal fillers are an effective and safe lip augmentation procedure. Skilled surgeons can ensure long-lasting and natural appearing results. Dermal fillers can help in improving the fullness, shape, and symmetry of your lips. Seasoned surgeons often make use of dermal injectables consisting of hyaluronic acid, such as Restylane, Juvederm, and Revanesse Versa.
These injections generally provide results lasting for six months. Your surgeon would schedule the next treatment before you leave. In some cases, patients need to return sooner after their first appointment to achieve the desired lip shape.
Your surgeon will help you understand the procedure and set reasonable expectations after determining your candidacy for the dermal filler lip augmentation procedure. The procedure is suitable for patients with delicate lip tissues and thinning skin. Dermal filler lip augmentation can:
Create subtle projections of the upper lip as compared to the lower lip
Enhance lip pout by making the center fuller, which gradually tapers at the sides
Smoothen lines on and around the lips
Make a defined cupid's bow
Correct any asymmetry
Improve proportion between the lower and upper lips
Juvederm Lip Enhancement
Age makes the lines around the lip and mouth more prominent. This results in thinning of the lips and loss of shape. It can also increase vertical lines on the lips. Juvederm dermal filler injectable can help patients attain sensuous and fuller lips. A woman's appearance can be enhanced by lips that appear well-defined and plump making her look more desirable. Juvederm dermal filler can balance asymmetrical lips.
Restylane Lip Augmentation
Restylane Silk is an FDA approved procedure for mild lip augmentation. It helps in smoothing wrinkles and lines around the mouth. It also works towards restoring the smile. This is a popular choice for dermal lip injections if looking for a dermal filler gel that provides a natural looking and beautiful smile.
Restylane Silk is made of hyaluronic acid or HA. This is a sugar-acid that is produced naturally by the human body. Patients claim that Restylane Silk produces smoother results with less swelling.
Lip Enhancement with Revanesse Lips+
Revanesse lips+ treatment is used for submucosal implantation in patients that are 22 or older. Revanesse contains hyaluronic acid, which is a naturally occurring compound in the body. It makes use of a unique Thixofix cross-linking technology for creating a cosmetic filler gel that is more sustainable. The dermal filler can be injected easily and feels more natural.
It is also easier to help shape the lips and doesn't break down dramatically or quickly. This is why the results are longer lasting. Cosmetic surgeon Dr. Eugene Kim receives patients from Beverly Hills, West Hollywood, Los Angeles, and nearby areas for lip augmentation with dermal filler injections.
Contact the Office of Beverly Hills Plastic Surgeon Dr. Eugene Kim
Click here see more plastic surgery procedures and treatments performed by Board Certified Plastic Surgeon, Dr. Eugene Kim on patients in Beverly Hills, Los Angeles, West Hollywood, Santa Monica, CA and surrounding areas or call 310-271-6996 to schedule a consultation.