Non-Surgical Lip Enhancement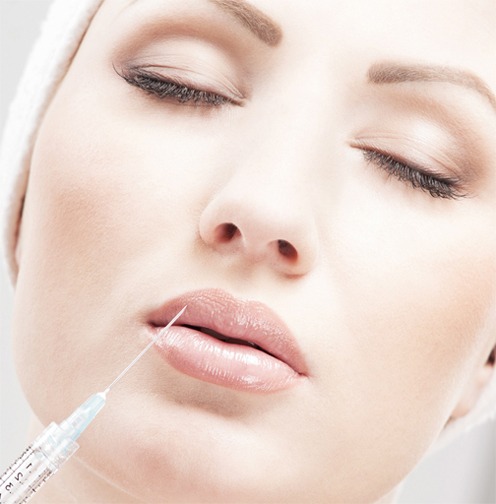 After Botox, dermal filler injections are the number two non-surgical facial rejuvenation procedure in the US today. Millions of women and men are benefitting from the use of cosmetic filler injections to fill wrinkles and lines as well as achieve plumper, fuller lips. If your lips have lost volume, shape, or definition, or you simply wish to create more desirable and pronounced lip appearance, you can choose facial filler injections.
These FDA approved filler injectables are equally effective for reshaping younger lips and volumizing aging lips. Lip enhancement dermal fillers contain hyaluronic acid, which is a biocompatible substance that causes no allergy. At your initial consultation, your injection provider will discuss your most suitable dermal filler injection options for lip enhancement.
Board certified plastic surgeon Dr. Eugene Kim provides innovative and advanced lip enhancement treatments to patients in Beverly Hills, Los Angeles, Santa Monica, West Hollywood, CA, and surrounding locations.
Benefits of Dermal Filler Lip Enhancement
With dermal filler injections, you will have the following benefits for lip enhancement:
The treatment is safe and approved by the FDA
Lost volume will be replenished almost instantly
Results are natural looking and fairly long lasting
The procedure is non-surgical, involving no sedation
No downtime, no significant discomfort, no scarring
Patient Goals with Facial Filler Lip Enhancement
Each patient will have unique aesthetic needs and goals in mind when they seek lip enhancement. For instance, if you are worried about the aging lines on your face and lips, you may want to reduce the effect of perioral lines or loss of lip volume with dermal fillers. If you are young, your goal may be to achieve a more accentuated or voluptuous look of your lips.
Your cosmetic surgeon will evaluate your face and lip contours and take your personal cosmetic goals into account to recommend a customized lip filler treatment plan. They will also explain to you the pros and cons of a lip dermal filler enhancement procedure in comparison to lip implant plastic surgery and fat transfer injections.
Here are some of the goals that are achievable with dermal filler lip enhancement:
Diminishing of your lip lines
Increased lip volume
Improved lip definition
Restoring of natural lip symmetry
Types of Dermal Filler Injections for Lip Enhancement
A number of FDA approved dermal filler injectables are available today for lip enhancement. Juvederm and Restylane are among the more popular hyaluronic acid based lip filler injections. Several variants are available in these two filler groups that can be used effectively for lip augmentation and lip reshaping. These include:
Juvederm Ultra
Juvederm Volbella
Restylane Silk
Restylane Refyne
Restylane
Each type of facial filler injection can play a different role to meet your lip enhancement goals. For example, Restylane is an excellent filler gel if you want to boost lip volume, but if you need more under-stated and natural looking lip definition, you may want to choose Restylane Silk. Similarly, Juvederm Volbella is specifically designed for as a lip enhancement dermal filler injection.
Cosmetic surgeon Dr. Eugene Kim receives patients from Beverly Hills, Los Angeles, Santa Monica, West Hollywood, CA, and nearby areas for lip enhancement procedures.
Contact the Office of Beverly Hills Plastic Surgeon Dr. Eugene Kim
Click here see more plastic surgery procedures and treatments performed by Board Certified Plastic Surgeon, Dr. Eugene Kim on patients in Beverly Hills, Los Angeles, West Hollywood, Santa Monica, CA and surrounding areas or call 310-271-6996 to schedule a consultation.