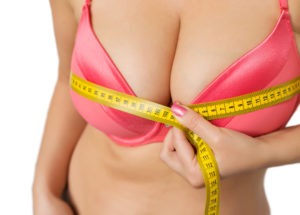 Women with oversized or heavy breasts usually experience symptoms such as shoulder pain, neck pain, back pain, headaches, and rashes. This situation may significantly impair routine activities making it challenging, if not impossible, to play sports or run.
The body can be thrown off balance even with lifting. Patients usually find themselves being more sedentary due to this condition, which in and of itself can cause weight gain.
Causation
Experts say that as the shoulders hold up the extra weight, the trapezius muscles become larger and thicker over time. This causes the shoulder grooves from bra straps to become permanent.
Patients with large breasts (macromastia) typically experience shoulder notching (grooves in the shoulders due to bra straps, back pain, and headaches. These conditions may be addressed successfully with breast reduction cosmetic surgery.
Board certified plastic surgeon Dr. Eugene Kim provides breast reduction surgery to patients in Beverly Hills, Los Angeles, Santa Monica, West Hollywood, CA, and surrounding communities.
Considerations Prior to Deciding on the Surgery
Women with oversized breast who experience significant back pain usually assume that the two occurrences are interrelated. But the pain may be an indication of another problem, and the size of the breasts could be simply worsening the issue.
Other reasons for back pain in women include pregnancy, obesity, chronic poor posture, ill-fitting bras, osteoporosis, back injury, and disc herniation or bulging in the spine.
Prior to proceeding with breast reduction cosmetic surgery, the surgeon may ask patients with back and chest pain to consult a primary care doctor for a complete evaluation.
This evaluation will enable the surgeon to understand the problems that can be addressed medically vs. those that cannot.
Breast reduction: a permanent solution to back pain?
When lifestyle changes and non-surgical remedies fail to provide long-term relief, breast reduction surgery is the only option that remains. Experts elaborate that the standard care for oversized breasts causing back pain is breast reduction surgery.
This problem cannot be permanently treated by any other approach. Most of these patients are in serious need of breast reduction to relieve their ongoing discomfort by the time they consult a plastic surgeon.
What the Procedure Involves
Breast reduction surgery is medically known as "reduction mammoplasty." It is usually done on an outpatient basis, but some surgeons may have the patient remain overnight at the hospital after the procedure.
In this procedure, the surgeon places incisions on the underside of the breast to eliminate excess skin and fatty tissue. This helps reduce the size of the breasts. The surgeon may also need to reposition the nipples for more aesthetically appealing outcomes.
Recovery and Results
For the best outcomes, it is vital for the patient to follow her surgeon's post-op care guidelines. The recovery after breast reduction surgery takes time. But the results typically outweigh the wait.
Experts indicate that a majority of patients are happy with the outcomes. Following the procedure, they are usually among the most satisfied patients.
When should I see a plastic surgeon?
Women with large breasts who have not experienced relief from their chronic back pain with non-surgical interventions should ideally consult a board certified plastic surgeon. A consultation will help the surgeon assess a specific case and recommend the most appropriate treatment course.
Plastic surgeon Dr. Eugene Kim receives patients from Beverly Hills, Los Angeles, Santa Monica, West Hollywood, CA, and nearby areas for breast reduction surgery.Click here see more plastic surgery procedures and treatments performed by Board Certified Plastic Surgeon, Dr. Eugene Kim on patients in Beverly Hills, Los Angeles, West Hollywood, Santa Monica and surrounding areas or call 310-271-6996 to schedule a consultation.