Buttock Implants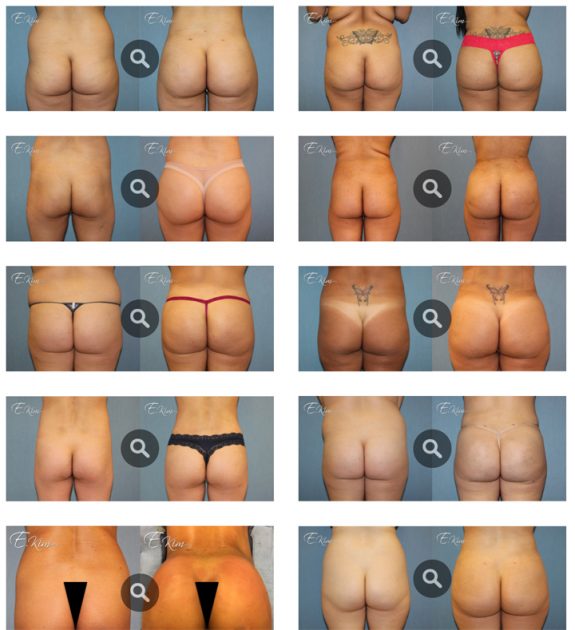 Buttock enhancement cosmetic surgery is performed by a plastic surgeon using synthetic butt implants or autologous fat transfer. Buttock implants are more popular as compared to augmentation through fat transfer. The end decision depends on the type and extent of enhancements required and recommendation of the cosmetic surgeon.
Your surgeon will discuss the buttock implants plastic surgery in detail with you during the initial post-op consultation. They will explain the entire process and the kind of expectations you should have. It is important that you ask questions and clear all doubts that come to your mind during this consultation.
Board certified plastic surgeon Dr. Eugene Kim provides buttock implants enhancement surgery to patients in Beverly Hills, Los Angeles, Santa Monica, West Hollywood, CA, and surrounding communities.
Complete Health Assessment
One of the most important pre-op consultation process components is evaluating the patient's medical condition. You should be in a healthy state of mind and body to undergo anesthesia and sedation without any risk during the surgical process. Your surgeon will ask for your past medical records and assess your general skin and health condition. In certain cases, additional lab tests may be ordered to determine a patient's candidacy.
Disclosure of Habits and Underlying Health Issues
You will need to disclose complete information about your health defying habits – whether you drink, smoke or are on any drugs. Your surgeon may require you to prepare a list of all drugs – prescription and non-prescription that you are currently on. It is advised that you prepare this list beforehand and carry it to your pre-op consultation. You will also need to disclose all underlying health issues.
Physical Examination
The plastic surgeon will proceed to examine your posterior anatomy once everything else checks out. This will be done to assess the current state of your backside and whether your aesthetic needs can be achieved through buttock implants. Your surgeon will let you know the type and size of synthetic implants that will be required to acquire the desired size, appearance, and volume.
Creation of a Customized Surgery Plan
Your plastic surgeon will create a buttock augmentation plan customized to your needs and based on your anatomical, health, and personal needs. During this step, the surgeon will determine the surgery type, size and location of incisions, and the degree of augmentation. Your surgeon will discuss the plan in detail with you and everything that happens during the surgery will be according to this customized plan.
Additional Tasks
Certain surgeons request to take photos of the patient's backside before carrying out the augmentation cosmetic surgery. Your surgeon will do this to have a clear benchmark of comparison. They will be able to better assess how the surgery went and whether your goals are accomplished or not.
You will be able to see the changes yourself by comparing the before and after pictures. Cosmetic surgeon Dr. Eugene Kim receives patients from Beverly Hills, Los Angeles, Santa Monica, West Hollywood, CA, and nearby areas for buttocks implants enhancement surgery.
Contact the Office of Beverly Hills Plastic Surgeon Dr. Eugene Kim
Click here see more plastic surgery procedures and treatments performed by Board Certified Plastic Surgeon, Dr. Eugene Kim on patients in Beverly Hills, Los Angeles, West Hollywood, Santa Monica, CA and surrounding areas or call 310-271-6996 to schedule a consultation.