Liposuction is popular choice for patients in the US seeking improvements in body contours. The cosmetic surgery procedure involves fat removal from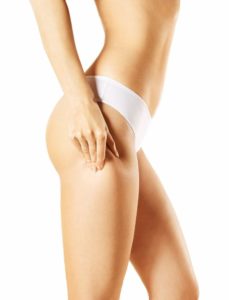 specific sites of the body for a more chiseled appearance.
Liposuction is also known as "body sculpting," and it is a common technique for reducing fatty deposits on the thighs, abdomen, butt, neck, legs, and other body areas.
While this procedure is capable of effectively removing undesirable fat, can liposuction address other stubborn aesthetic issues (such as cellulite) as well? The surgeon will discuss this issue with the patient during the initial consultation. Prudent board certified plastic surgeon Dr. Eugene Kim provides liposuction to patients in Beverly Hills, Los Angeles, Santa Monica, West Hollywood, CA, and surrounding locations.
Can Liposuction Eliminate Cellulite?
Cellulite can create an undesirable physical appearance. Cellulite refers to the dimpling of skin that can occur in the buttocks and other body areas. Many women experience cellulite on their skin, usually in the buttock or thigh regions. Cellulite occurs due to the presence of fat pockets that are pushed to the skin's surface. This leads to the unattractive dimpled effect.
A seasoned plastic surgeon will know how unappealing cellulite can make a person feel. But liposuction plastic surgery alone may not be the answer for the permanent removal of cellulite. Liposuction is meant to remove fat from the body. It can enhance the contours, but not remove cellulite.
Liposuction Results
While liposuction is not so effective for cellulite removal, it still offers various advantages to patients. The primary purpose of liposuction surgery is body contouring to achieve the desired body shape.
It is not a treatment for weight loss, but meant for individuals seeking a more chiseled and sculpted physique. It has a relatively shorter recovery and offers very quick results, which explains its widespread popularity and an increasing number of surgeries every year.
Patients who are committed to following a balanced diet and a regular exercise regimen can achieve improvements in cellulite appearance, while maintaining their body contouring results for a long time after liposuction.
Tumescent Liposuction
Liposuction is commonly performed in areas such as thighs, buttocks, breasts, arms, hips, ankles, neck, and calves. It is usually performed along with other surgical procedures for more complete outcomes.
The suction principle drives liposuction and involves the removal of undesirable fat tissue. The surgeon will place tiny incisions in the targeted sites. They will then insert a narrow cannula in these incisions and manipulate it to break down stubborn fat cells. Subsequently, the surgeon will suction these fat cells out using a syringe or pump which is attached to the cannula's outer end.
Tumescent liposuction is a commonly employed liposuction technique and is performed under local anesthesia. Before the surgery, the surgeon injects the local anesthetic solution which causes the blood vessels to shrink. This reduces blood loss, and post-op discomfort and bleeding.
The surgeon may perform an ultrasound assisted liposuction in some cases. This involves the use of a specialized handpiece to deliver ultrasound energy to the deeper tissue layers to help dislodge and melt fat.
This is an effective technique for more extensive areas with dense fat. Successful cosmetic surgeon Dr. Eugene Kim receives patients from Beverly Hills, Los Angeles, Santa Monica, West Hollywood, CA, and other towns and neighborhoods in this part of the country for liposuction.
Click here see more plastic surgery procedures and treatments performed by Board Certified Plastic Surgeon, Dr. Eugene Kim on patients in Beverly Hills, Los Angeles, West Hollywood, Santa Monica and surrounding areas or call 310-271-6996 to schedule a consultation.