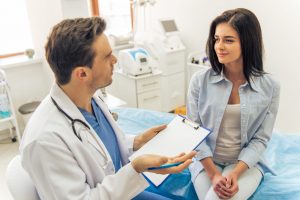 Prior to proceeding with any major cosmetic surgery procedure, such as breast enhancement, the patient should have a thorough understanding of what the procedure involves, what are its advantages and limitations, and any possible risks and complications that may develop.
Ideally, the patient should create a list of questions beforehand to ask the surgeon during the pre-op consultation.
A responsible surgeon will establish a good relationship based on open communication with the patient. They will encourage her to express her concerns and doubts, and make sure that she arrives at a final decision only when she is completely satisfied with the responses.
Board certified plastic surgeon Dr. Eugene Kim provides breast implant surgery to patients in Beverly Hills, Los Angeles, Santa Monica, West Hollywood, CA, and surrounding locations.
Productive Consultation
The consultation process will lay the foundation for effective breast enhancement surgery. This makes it vital for the patient to feel satisfied will all facets of breast surgery during the consultation.
She should have a higher confidence level about the procedure following the consultation and feel satisfied with the surgeon and their practice as well.
During the consultation, the surgeon may also showcase breast enhancement before and after images, in addition to responding to the patient's questions. In addition, they may encourage the patient to see reviews and testimonials of previous patients to gain insights about breast enhancement cosmetic surgery from the perspective of an actual patient.
List of Questions
The patient can develop a list of questions encompassing the following areas to ask the surgeon during her initial consultation on breast enhancement:
Has the American Board of Plastic Surgery certified you in plastic surgery?

What number of years of training and experience do you possess in plastic surgery?

Have you undertaken breast enhancement surgery in the past? What is your rate of success in this procedure?

Am I a suitable candidate for breast enhancement surgery?

Will you undertake the procedure using general anesthesia or local anesthesia and sedation?

Would you recommend a surgical center or a hospital to undertake my procedure?

What will the time taken to complete the procedure be inside the operating room?

What is the appropriate size and type of implant for me?

What are the risks and complications associated with breast enhancement surgery?

How long do the implants last on average? Can they be removed or replaced?

Will it be possible to breastfeed in the future after enhancement surgery?

Would you undertake a revision procedure in case of implant failure?

How long and painful is the post-op recovery period?

How long will I have to wear a surgical bra after the surgery?

In your opinion, do I need a breast lift along with breast implants?

What is the estimated cost of breast enhancement surgery in my case?
Plastic surgeon Dr. Eugene Kim receives patients from Beverly Hills, Los Angeles, Santa Monica, West Hollywood, CA, and nearby areas for breast augmentation surgery.
Click here see more plastic surgery procedures and treatments performed by Board Certified Plastic Surgeon, Dr. Eugene Kim on patients in Beverly Hills, Los Angeles, West Hollywood, Santa Monica and surrounding areas or call 310-271-6996 to schedule a consultation.