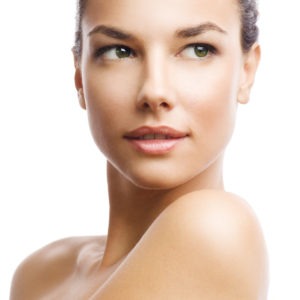 Chin augmentation cosmetic surgery procedure involves the surgical insertion of synthetic implants to build up a recessive chin and make it proportionate to other facial features. At the time of pre-op consultation, the surgeon will explain the patient about various aspects of the procedure and may also present chin augmentation before and after photographs.
The first goal of a responsible surgeon will be to educate the patient about the procedure and help them make an informed decision. Before and after photos can play an important role in this effort. Board certified plastic surgeon Dr. Eugene Kim provides chin augmentation to patients in Beverly Hills, Los Angeles, Santa Monica, West Hollywood, CA, and surrounding communities.
What are Chin Augmentation Before and After Photos?
Before and after photos in case of chin augmentation cosmetic surgery refer to a set of images pertaining to an earlier patient who has undergone the same procedure with a satisfactory outcome. The set includes photos taken prior to the procedure and after the procedure at a stage when the post-operative swelling and bruising has disappeared and new chin contours are firmly established.
The surgeon will take care to ensure that the photographs are obtained with the patient's proper consent and presented before new patients in an appropriate manner. The patient's identity may be kept undisclosed as per the standard protocol. The surgeon's sole purpose in this endeavor is to use these photos as a visual tool to explain the potential effectiveness of chin augmentation to new patients.
Benefits
When a new patient is seeking chin augmentation surgery, they may be apprehensive about how it may alter their overall facial profile, and whether it will meet their personal aesthetic needs and goals. Some patients may only require minor enhancement in the chin, while some others may have a significantly recessive chin requiring greater chin build up.
In some cases, the surgeon may recommend chin augmentation in conjunction with rhinoplasty or cheek implants to create more harmonious results. In each case, the patient will be better placed to make the right decisions when they have access to chin augmentation before and after pictures which the patient does on Dr. Kim's wonderful and impressive website.
Dr. Kim believes in being candid and transparent unlike some politicians but that is another story. The amazing story here is really digital technology. There has not been too many industries or any really that have been altered by this incredible technology which enables pictures to be disseminated and seen everywhere at a very low price and since most people have Internet access it is almost free.
Any patient can see poignant chin augmentation pictures on the website and then apply what you see to their own face. This means that the patient can make a suitable decision since they have the information needed to make a decision of this caliber. This lowers the anxiety of everyone involved and helps the patient understand what they have signed up for.
Keeping Reasonable Expectations
Chin augmentation will focus only on a limited area of the face and help improve facial balance. The patient should have a clear idea of what the surgery can or cannot do for them, and make a decision only after they are completely sure of their cosmetic needs.
The surgeon will help the patient form reasonable expectations by presenting chin augmentation before and after pictures. They will encourage the patient to review as many photos as possible in order to have a fair understanding of how far the procedure can improve their facial appearance.
Pictures on the Website
The surgeon may choose to present chin augmentation before and after pictures on their practice website in a dedicated 'Photo Gallery' section which Dr. Kim as has been mentioned. If the surgeon is active on social media, they may also consider disseminating these pictures through leading photo sharing social sites such as Facebook, Instagram, and Pinterest.
Profound and perspicacious plastic surgeon Dr. Kim receives patients from Beverly Hills, Los Angeles, Santa Monica, West Hollywood, CA, and nearby areas for chin augmentation.

Click here see more plastic surgery procedures and treatments performed by Board Certified Plastic Surgeon, Dr. Eugene Kim on patients in Beverly Hills, Los Angeles, West Hollywood, Santa Monica and surrounding areas or call 310-271-6996 to schedule a consultation.